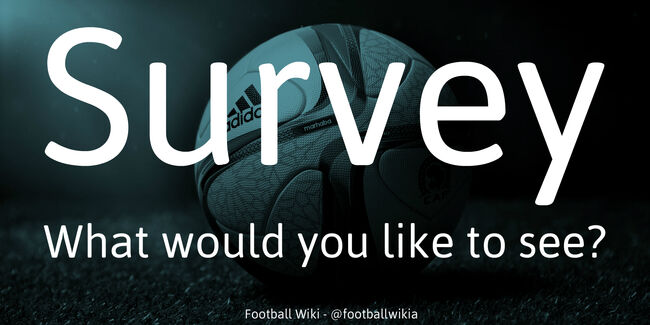 Hey, hereby we're asking you what you'd like to see on Football Wiki. You're free to give any advice you have to help us making the wiki better for you and all other Wikia users. From making more pages about a particular subject to organizing projects and making special hub pages. Everything is welcome. It'd be very helpful if you have some time to vote on the polls below. Let us know in the comments or on twitter what you think! You don't have to be active here, you even don't have to have an account. If you don't have ideas immediately, maybe these questions can help you. Think of from what countries would you like to see pages, what of the layout needs an update, how could more people find the wiki, how could we get more editors, what project topics would you like, what do you like on the wiki, what do you miss...
We'd like it if you have some time to vote on the polls below!
When you're busy with football, from what continent is that then?
Which competition do you follow the most?
What of the layout do you think could be improved?
Do you like the UEFA Euro 2016 and Africa Hub?
Do you like the current home page?
Are the help pages (edit help, guidelines etc.) on the wiki clear enough?
How did you find the wiki?
When you see this wiki now, do you think you're going to contribute?
Thank you for voting on the polls and don't forget to say what you think in the comments! It's really helpful!
Community content is available under
CC-BY-SA
unless otherwise noted.