Leroy Sané
Personal information
Full name
Leroy Sané
Date of birth
11 January 1996
Place of birth

   

Essen, Germany
Height
1.84 m (6 ft 1⁄2 in)
Playing position
Winger / Attacking midfielder
Club information
Current club
Manchester City
Number
19
Youth clubs
2001–2005
2005–2008
2008–2011
2011–2014
SG Wattenscheid 09
Schalke 04
Bayer Leverkusen
Schalke 04
Senior clubs
Years
Club
App (Gls)
2014–2016
2016–
Schalke 04
Manchester City

37  (11)

   

47  (11)
National team
2014–2015
2015–
2015–
Germany U19
Germany U21
 Germany

10  (5)
9  (0)
11  (8)
Leroy Sané (born 11 January 1996) is a German professional footballer who plays as a winger for Premier League club Manchester City and the Germany national football team.
Early career
Sané began his career in 2001, playing for the youth team of SG Wattenscheid 09, for which his father had also previously played. He joined Schalke 04 in 2005, then, three years later, moved to Bayer 04 Leverkusen. He returned to Schalke in 2011, joining the youth academy.
Club career
Schalke 04
In March 2014, Sané graduated from Schalke's youth academy and joined the senior team on a professional contract. He made his Bundesliga debut, against VFB Stuttgart, in April 2014.
Manchester City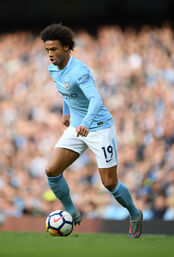 In August 2016, Sané joined Premier League club Manchester City, signing a five-year deal reportedly worth £37 million. He made his debut for the club that September, in the Manchester derby. His first goal for the club, against Arsenal, followed shortly afterward.
In April 2017, Sané was named as one of six players shortlisted for the PFA Young Player of the Year award.
Throughout his career, Sané has suffered with chronic nasal congestion. In July 2017, he revealed that he
believed his debut season at City had been limited by his inability to breathe through his nose, stating that the problem caused him discomfort and intense frustration during matches. He opted to have corrective surgery during the off-season break. Although this caused him to miss that year's FIFA Confederations Cup, Sané stated that having a constantly blocked nose was becoming increasingly unbearable for him, and that he wished to go into the next season feeling happy and healthy.
Sané started the 2017-18 season promisingly. Endowed with more confidence following his surgery, his excellent performances in October earned him the Premier League Player of the Month award.
External links
Community content is available under
CC-BY-SA
unless otherwise noted.