Daryl Janmaat
Personal information
Full name
Daryl Janmaat
Date of birth
22 July 1989
Place of birth

   

Leidschendam, Netherlands
Height
1.85 m (6 ft 1 in)
Playing position
Right back
Club information
Current club
Watford
Number
2
Youth clubs
1995–2007
Feyenoord
Senior clubs
Years
Club
App (Gls)
2007-2008
2008-2012
2012-2014
2014-2016
2016-
ADO Den Haag
SC Heerenveen
Feyenoord
Newcastle United
Watford

84  (5)
63  (5)
71  (3)
32  (4)

   

25  (2)
National team
2009
2009-2011
2012-
Netherlands U19
Netherlands U21
Netherlands

11  (0)
23  (0)
4  (0)
Daryl Janmaat (born 22 July 1989) is a Dutch professional footballer who currently plays for Premier League side Watford and the Dutch national team, as a right back.
Club career
ADO Den Haag
Janmaat began his senior career in the 2007-08 season, with Eerste Divisie club ADO Den Haag.
Heerenveen
Before the start of the 2008-09 season, Janmaat moved to Eredivisie side SC Heerenveen. He made 84 appearances, scoring 5 goals.
Feyenoord
In the middle of 2012, after his contract with Heerenveen expired, Janmaat moved to Feyenoord, making 63 apperances and scoring 5 goals.
Newcastle United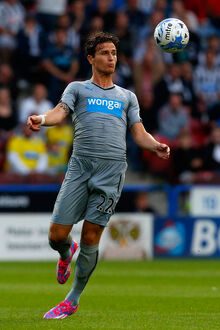 In July 2014, Janmaat joined Premier League team Newcastle United for an undisclosed fee. He made an impressive start, earning several assists and, for his defensive performances, being awarded Player of the Year by the Newcastle Supporters' Trust.
The 2015-16 season was less successful, with Newcastle being relegated.
Watford
Following Newcastle's relegation at the end of the 2015-16 season, Janmaat moved to Premier League Watford for a fee of £7.5 million.
International career
Janmaat made his international debut for the Netherlands in September 2012, and since then has remained a part of the national squad.
Personality and playing style
Janmaat is known for both his defensive capabilities and attacking instincts, as well as physical strength. He has been involved in several on- and off-pitch incidents. In October 2009 he was sent off just three minutes after coming on as a substitute during a Europa League match against Hertha BSC, and in December 2012 was shown two yellow cards in the space of one minute in a league match against NAC Breda.
In March 2016, after an away loss to Stoke City, he was involved in a confrontation with travelling Newcastle supporters and had to be turned away by Jamaal Lascelles. In April 2016, Janmaat was substituted during the first half of an away match against Southampton, having sustained a groin injury. In frustration, he punched a wall in the dressing room, breaking two fingers and therefore missing the next four matches for Newcastle.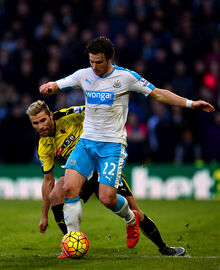 Janmaat has attained a certain notoriety among fans and other players for not wearing any underwear while playing. In the absence of public comment about the matter from Janmaat himself, it is not known if he forgoes underwear in an attempt to keep cooler during matches, or if he simply enjoys the feeling of wearing nothing beneath his shorts. Nonetheless, during Janmaat's time at Newcastle fans were often engaged in lively debate about the wisdom of such a decision, citing modesty concerns and the risk of potential injury. The issue came to media attention in April 2016, when Janmaat was involved in an altercation with Norwich defender Steven Naismith while defending a corner. Naismith, knowing that Janmaat was, as usual, not wearing anything underneath his shorts, tickled Janmaat's crotch to distract him during the set piece. Janmaat reacted angrily and complained, although the referee did not see the incident.
When he joined Watford in August 2016, Janmaat started to wear briefs during matches. Although no public comment was made, such an abrupt change to his career-long preference for no underwear led to speculation that Watford management had expressed injury or modesty concerns about his lack of underwear and instructed him to use some form of athletic support.
Honours
Clubs
Heerenveen
International
Netherlands
Individual
External links
Community content is available under
CC-BY-SA
unless otherwise noted.